Boutique gym with with speciality classes and amazing views
Suspended pilates, intense dance classes, hot yoga + high intensity classes
Feel your core in a suspended pilates class, stretch it out in a hot Bikram yoga class or work up a sweat in an intense, easy to follow dance class at MyUtopia Boutique Lifestyle Centre at the Waterfront, the boutique gym where Rachel Kolisi, Springboks captain Siya Kolisi's wife, also attends classes.
TAKE YOUR FITNESS TO ANOTHER LEVEL
MyUtopia easily caters to walk-in and first time visitors with "Suspension Fitness (TRX) and SALT (suspended Pilates) are incredible classes for mixed levels," says Director of Operations Martine Meneses. Heads up: these classes involve more than your average dumbbell and weights. The TRX classes are all about using straps suspended to the ceiling above your head to help strengthen your core muscles.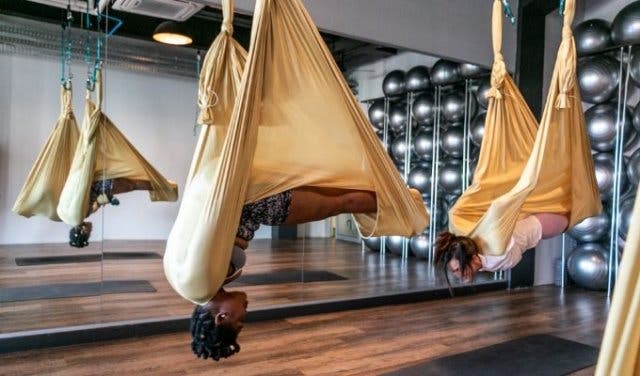 SALT (suspended aerial lifting training) pilates relies on similar methods as TRX. This exciting class focuses solely on your core strength by lifting your body weight up and working the body primarily in the air.
ALL GYM BUNNIES  WILL ENJOY MYUTOPIA
It doesn't matter whether you're a novice yogi or a seasoned gym bunny, "all classes are catered for every level – as long as you let the teacher know ahead of class, they are all fully equipped to give modifications for all levels," says Meneses. For those looking to benefit from a good sweat, Meneses recommends the Tuesday evening vinyasa classes.
"Another amazing class for beginners is 26×60. It is the same class every single time – which gives one an opportunity to progress and track your fitness easily," says Meneses. It's hot Bikram yoga, and participants have 26 poses and two breathing exercises to follow in a 60-minute class in a room heated to 40 degrees and 50% – 60% humidity.
YOU'LL LOVE THE DANCE CLASSES
"Dance with PK (currently on Thursdays at 10am – schedule subject to change) is a completely unique class that is only offered at our studio and quite honestly has to be experienced rather than explained in words – just know that you will have the best 60 minutes of your life, whether you have the rhythm of a brick wall or Shakira," says Meneses.
You can find each class online. MyUtopia aims to offer more classes earlier in the morning at 6am and later in the evening at 6pm. You can easily find your next class (and book your gym package) via their website.
MYUTOPIA LIFESTYLE BOUTIQUE
Address: The Cruise Terminal, Victoria & Alfred Waterfront
Contact: 021 202 2271
Webpage: myutopia.co.za