Training everyone from novices, to experts + kids 10 years up
You can now get your PADI diver's certification – which means you can dive anywhere in the world – at the Two Oceans Aquarium. Kids from 10 years of age can qualify, and it's super-convenient because it's in the city.
Plus, if you'd like see if diving is right for you first, you can try a PADI Discover Scuba Diving experience, and then upgrade to the full PADI Open Water Diver Course later, with your experience fee deducted.​​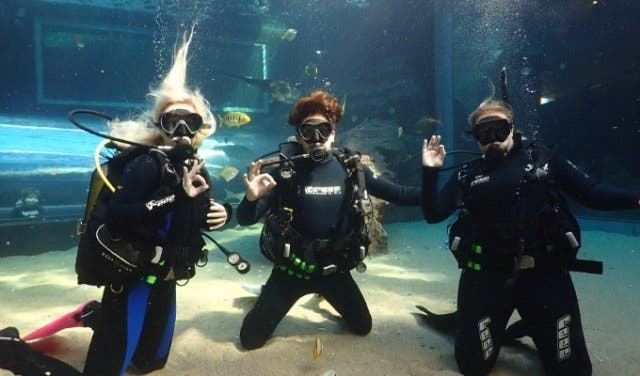 Be immersed in an underwater world. Image: Two Oceans Aquarium.
GET A GLOBALLY RECOGNISED CERTIFICATION
The Two Oceans Aquarium Dive School now offers a range of diving certifications, from refresher courses to the Open Water Diver and Advanced Open Water Diver, as well as other PADI speciality scuba courses.
The Aquarium has offered diving experiences before, such as scuba for already-qualified divers in their large-scale exhibits, as well as short courses for people to do same-day dives. The PADI-certification now gives it legitimacy as a diver-training school; it's now a PADI-certified Dive Resort.
Have you seen that the FOMO App now has activities and vouchers that you can purchase? Check it out here: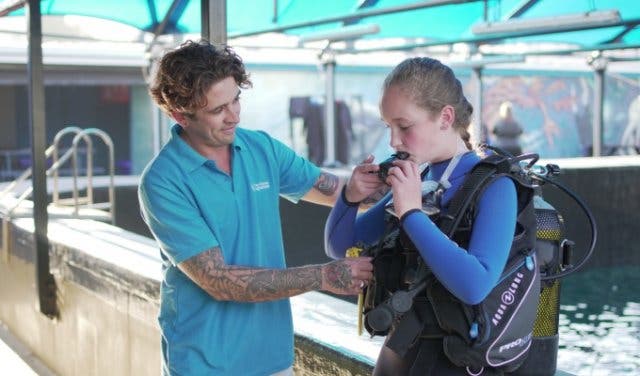 Anyone from the age of 10 can do these certifications, so it's a wonderful family opportunity. Image: Two Oceans Aquarium.
Launching the dive school which offers PADI-certification is a bold and exciting direction for the Aquarium, says Marketing Manager Ingrid Sinclair.
The Professional Association of Diving Instructors (PADI) is the most well-known diver-training association in the world, and operates in 183 countries and territories. This means that its certificates are recognised wherever you go in the world.
Encounter one of the ocean's most majestic predators. Image: Two Oceans Aquarium. 
GET TRAINED BY PADI-CERTIFIED SCUBA INSTRUCTORS
The Aquarium's Dive School has PADI-certified scuba instructors and offers an incredible environment to learn how to dive in and caters to Capetonians and visitors alike.
From the Discover Scuba Diving experience, to more advanced courses, like PADI Open Water Diver and PADI Advanced Open Water Diver, the dive school has something to offer everyone. Some experiences are limited to diving in the Aquarium exhibits, and others offer the opportunity to explore the waters around Cape Town as a qualified diver.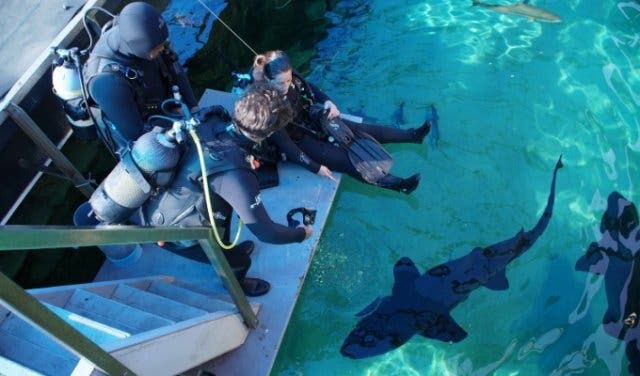 The PADI-certified instructors will teach all you need to know both inside and outside the water. Image: Two Oceans Aquarium.
SIGN UP FOR PADI OPEN WATER DIVER, HAVE YOUR DISCOVER SCUBA DIVING FEE DEDUCTED
So where do you begin? If you've never dived before, start with the PADI Discover Scuba Diving experience, says Ingrid. This works if you've been dreaming of diving but are anxious about the experience or aren't sure you want to do a full certification.
It's a half-day course, which includes theory and training in a pool, after which you can dive in the I&J Ocean Exhibit (with rays, turtles, musselcrackers…) under the expert guidance of their in-house PADI Dive Instructors.
What's great about it is should you decide to go for the PADI Open Water Diver certification, the Discover Scuba Diving experience will contribute towards the full certification's cost.
You can get in the water after one morning of learning, but it's in a safe environment (no predators). Image: Two Oceans Aquarium.
THE TRAINING IS FUN AND RELAXED
The Discover Scuba Diving starts in a small pool, which gives you the chance to get accustomed to breathing underwater.
You also practice with the diving regulator mouthpiece which helps you not panic when you think you can't breathe. In the dive pool, a couple of exercises are practiced, like clearing your mask, retrieving your regulator and generally just ensuring that your buoyancy is good.
Once theory and practical training is done, you're ready to dive in the I&J Ocean Exhibit and be surrounded by the myriad of fish, turtles, rays and the play of light.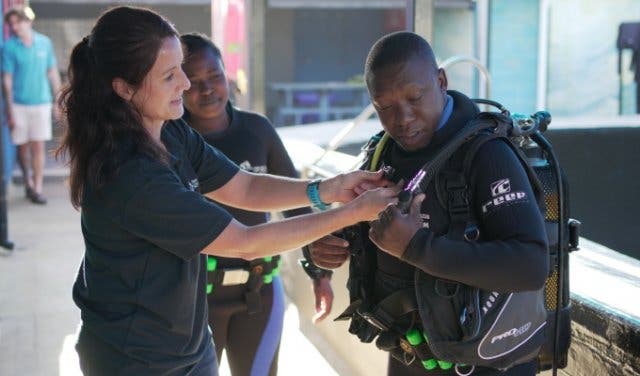 When you learn to scuba there are instructors with you every step of the way. Image: Two Oceans Aquarium.
NOW YOU WANT TO GET INTO THE SEA
The PADI Scuba Diver course takes two days to complete and certifies you to dive to 12 metres with a PADI professional guide, and yes, it's accepted worldwide, too.
It costs R4 500 per person, which includes everything, from the theory packs through to the gear rental, dive permits and final certification. The first two ocean-like dives take place in the I&J Ocean Exhibit at the Aquarium.
You can later upgrade your PADI Scuba Diver certification to a PADI Open Water Diver by completing additional training, or you can skip the PADI Scuba Diver course and go directly to the Open Water Diver training if you'd like to experience even more scuba diving freedom and confidence.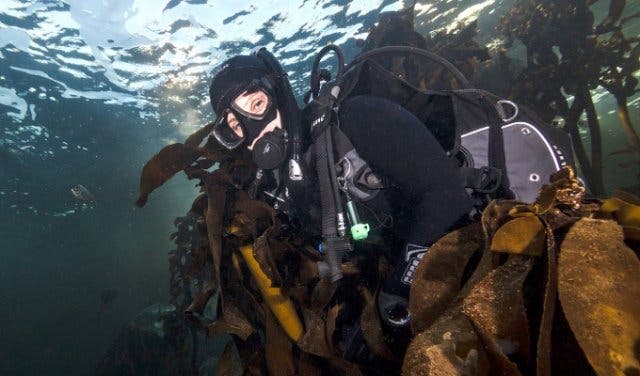 With the right qualifications, you could even swim in the Kelp Forest Exhibit. Image: Two Oceans Aquarium.
GO DEEPER WITH THE OPEN WATER DIVER
The PADI Open Water Diver course qualifies you to dive to 18 metres with a dive buddy, book boat dives, and rent dive equipment.
The first couple of dives are undertaken in the Aquarium's exhibits – on day 2 already – and then on day 3, there are 2 shore-entry dives out in the False Bay area plus a number of other options, like night and wreck dives.
Ten to 14-year olds can earn a Junior Open Water Diver certification. The course takes three days and also includes everything (call the Aquarium for the price).
The open ocean awaits you when you get the PADI Open Water Diver course. Image: Two Oceans Aquarium. 
DO DEEP DIVES AND LEARN TO IDENTIFY FISH
The PADI Advanced Open Water Diver course will qualify you to dive down to 30 metres if you're 15 and older, and 21 metres for those 12 to 14-years of age. Only divers from age 12 upwards can register for this course.
The advanced course helps you build confidence in your skills, such as navigation, buoyancy and fish identification. Plus, it will also introduce you to different diving activities, such as night or wreck dives. It costs R7 200 per person and takes two days to complete. (You have to already be qualified as an PADI Open Water Diver before progressing to the PADI Advanced Open Water Diver qualification.)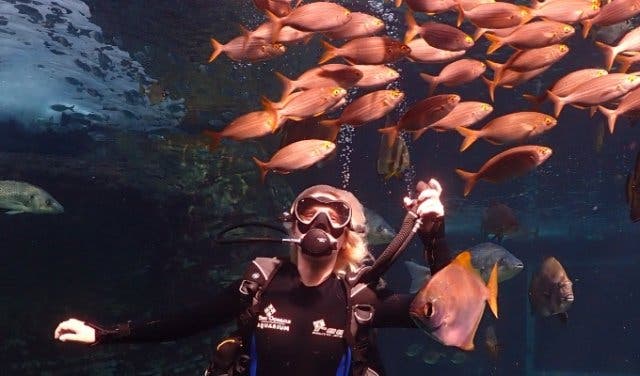 An array of marine life are waiting to be encountered. Image: Two Oceans Aquarium. 
ALREADY A QUALIFIED DIVER?
Qualified scuba divers can take the plunge in any of the Aquarium's spectacular large-scale exhibits:
Spend time with large ragged-tooth sharks in the Save Our Seas Foundation Shark Exhibit, learning more about these gentle giants and why they need our protection.
Drift through the mesmerizing Kelp Forest Exhibit, encountering endemic and endangered species rarely spotted in the wild.
Meet stingrays and other temperate ocean species in the 1.6 million litre-large I&J Ocean Exhibit.
Book any of the courses or experiences: Call (021) 418 3823, or visit them at Two Oceans Aquarium, at Dock Road, V&A Waterfront or online: aquarium.co.za/diving