Are you always looking for a restaurant special or something cool to do in Cape Town? The FOMO team is here to help keep you updated, 2021 edition! Cape Town is well-known for its hospitality and entertainment and as Capetownians, we love to act like tourists in our own city. This in itself is something that is going to help Cape Towns' hospitality industry bounce back quicker after the hellish effects of COVID-19 and our multiple lockdowns. Let's look at some restaurant specials, events, and activities in Cape Town.
Mynt Cafe Camps Bay:
Oh baby baby, do we love to feel Boujee on a budget! Mynt Cafe has recently become one of the number 1 spots on the Camps Bay strip to watch the sea view and enjoy an amazing special. They have a 3-hour happy hour special…2 for 1 drinks every single day. Mynt Cafe is also known for some incredible sushi, you can get a 3 for 2 sushi plates special. To see their burger, pasta, and seafood platter specials, download the FOMO App here.
2. Cattle Baron Tableview:
The Cattle Baron in Blouberg is famous for its tender, juicy, flavorful steaks. If you haven't been to the Blouberg branch you need to do your tastebuds a solid favour and pay them a visit. Cattle Baron Tableview has the most incredible R99 steak special, did your jaw just drop? YES R99 for a 200g rump or sirloin steak with a side, available Monday-Sunday. They also have a R59 burger and sides special on a Monday and a Chicken Schnitzel special on a Tuesday, for more details on their specials check the FOMO App.
3. Titan OCR
Fitness freaks or just anyone who loves a great fun activity, this is for you! Have you ever watched Survivor and thought to yourself, hey I could do that, well now you can prove to yourself and your friends that you can! "Titan is an adventure endurance community and active lifestyle brand. The core of the Titan brand is to invite our members to continually push themselves, and to transcend their challenges.". Titan is always having events and their tickets are generally R100 for the day. For more info on their activities check out their website.
4. Arnolds on Kloof
Arnold's is a Cape Town MUST! They are known for their relaxed vibe but mostly for their incredible food and value for money. The chefs at Arnold's are top-notch. Arnolds was founded in 1998 and has been going ever since, that's impressive! This spot always has a couple of great specials running, to keep up to date on these you can check them out on the FOMO APP. Their current specials include a lunch special which is a Tzatziki lamb burger, chips and a Jack Black draught for R120(Mon-Sun), a R95 breakfast special which includes coffee or juice and a dinner special which is slow-roasted oxtail on a bed of mash, vegetables and a carafe of wine for R145.
5. RocoMama's
RocoMama's has the ultimate dude food if you are looking for some comfort from Burgers to cheesy fries to wings and ribs. There are a number of these restaurants popping up around Cape Town including Canal Walk, Willow Bridge, Vangate Mall, Durbanville and more. We love Rocomama's for a good special and they consistently run them, which gives us just so much joy. RocoMama's latest stroke of genius is the double American, for R99. You will get a double cheese burger and chips! RocoMama's in Durbanville is running the Burger and Beer special, for R115 you will get a cheese and bacon burger with chips and a lager! You can keep up to date on their specials on the FOMO App.
6. Husk Woodstock
If trendy vibes, chef-quality food and great dinner specials is what you are looking for, look no further! Husk is really making a splash with their flavourful food and variety of experiences. Husk has the most incredible fine dining menu's but they also have creative burgers and pizzas that locals are raving about. Take babe out for a date night that won't break the bank, for R450 you can get the couples set menu, which is a starter to share, 2 main meals, a dessert to share, and 2 glasses of wine (for more details check Husk out on the FOMO app).
Cocktails anyone? Husk has happy 3 hours from Mon-Sat where you can buy 1 cocktail and get another FREE. There are many more food and drinks specials from Husk on the FOMO App.
7. Den Anker Waterfront
Do you like the view of the Cape Town Harbour, sunshine and great food on special? Who am I kidding, of course, you do! Den Anker at the Waterfront has multiple specials on from breakfast, eggs benedict including a coffee, tea or mimosa for R100 to 2 portions of Belgium waffles for R100 to a wagyu burger special for two, if you want to see more info on their specials you can find Den Anker's deals on the FOMO App.
8. Table Mountain Aerial Cableway
When was the last time you went up the cable car on Table Mountain, if ever? Well on your birthday you can go up… completely FREE of charge, they will of course also bring you back down again! I have actually done this on my birthday and let me tell you getting something free on your birthday just feels like victory, that's if the views weren't enough.
9. Kapstadt Brauhaus
Let the Waterfront transport you to Germany with Kaptstadt Brauhaus and their german cuisine and beer! We were thrilled to find out that Brauhaus sells local and international beer. They have live music every week and the balcony sports a stunning view of the Cape Town Waterfront which makes this the perfect spot for drinks with friends. Kapstadt Brauhaus has quite a few specials running like their, buy 3 pizzas and only pay for 2 on Mondays and half-price Chicken Schnitzels every Tuesday from R44.50. They also have a burger special on Wednesdays, to see more details on this special get the FOMO app here.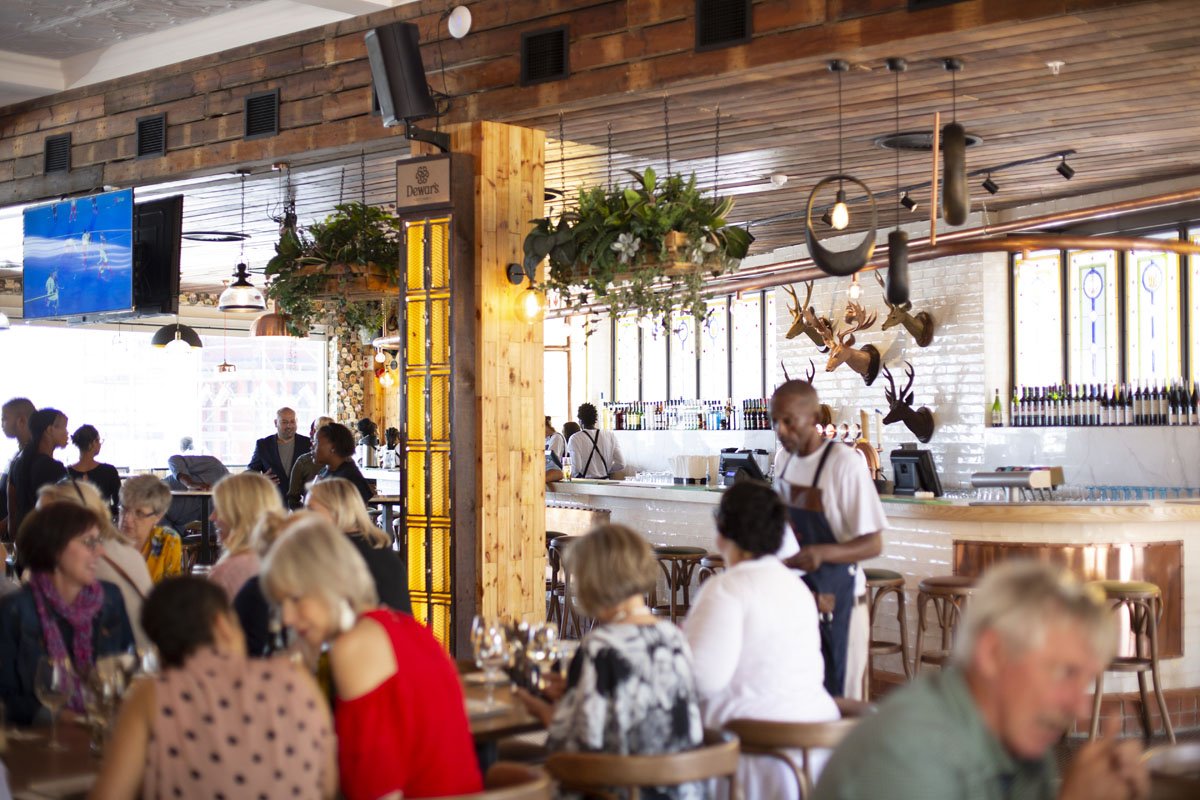 10. Infusion on Long
Infusion on Long Street isn't just food… it's an actual experience. We have all heard about food infused with CBD but have you ever tried it? If you are wondering, CBD-infused food doesn't make you high. Infusion is super trendy with neon lights for photo moments, comedy shows and Mediterranean-style food. We would definitely recommend this for an experience that you won't forget, the best thing is that they have their famous CBD Infused Cheese Burger and Darling Beer on special for only R99 from Tuesday- Thursday. You can also get 20% off cocktails and tapas at certain times, check them out on the FOMO App for more details.
11. Hard Rock Cafe Camps Bay
The words Hard Rock Cafe just give me those international feels you know! The thing is that you don't have to go further than our very own Camps Bay to have the Hard Rock Cafe experience. Hard Rock Cafe is situated right on the Camps Bay strip sporting insane views of Camps Bay beach from the top balcony, if you want to get those seats I suggest you go a bit earlier as those spots are always popular. Now I know you aren't going to believe me but there's a R95 fillet, chips and sauce special at Hard Rock Camps Bay…a fillet under R100 on the Camps Bay strip! You can snatch this up from Monday-Thursday. Another great special is the 2 beer-battered fish and chips for R195, available every single day of the week. You can see more of Hard Rock Cafe's specials on the FOMO App.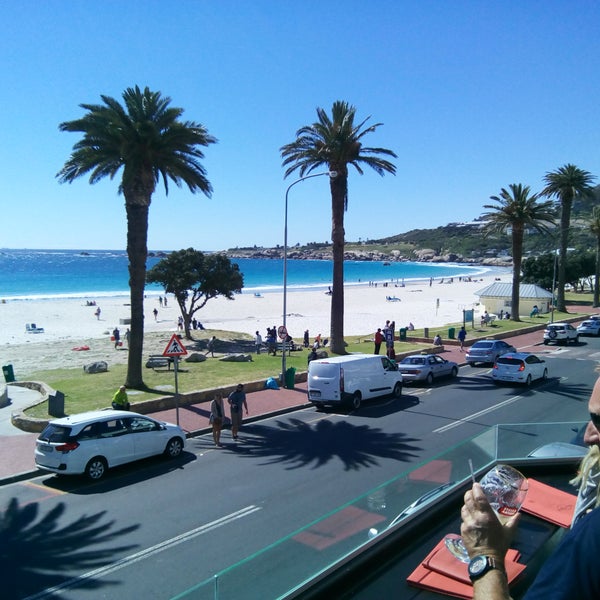 12. Simple Bru Coffee Co.
Coffee Lovers this one is for you! If you love a great quality coffee and Sandwich you are going to love Simple Bru Coffee Company in Blouberg. They freshly roast and package their own coffee. On Fridays Simple Bru has a pour-over coffee for only R25 and on Wednesdays, you can get 2 grilled chicken, Siracha, Mayo and Avo Sandwiches for only R75. For more info on their specials check Simple Bru out on the FOMO App.
13. J&S Sushi
The sushi restaurant taking over Cape Town and very recently JHB. The amazing thing about J&S Sushi is that they are strictly halaal which we absolutely love in Cape Town. They are known to turn even non-sushi lovers into fans and have popular dishes that stand out namely their Crunch sushi and Chow Mein dishes. J&S is mainly focused on takeout sushi but their spot in Woodstock has a sit-down area. On Friday's you can get 2 portions of prawn crunch for R160 and 2 portions of Chow Mein for R110. They also have some great platter specials, to see more of the details and locations of their specials, check them on the FOMO App.
14. Coco Safar SA
Have you ever thought, "man I just wish I was in Paris today!"? I think I have that feeling roughly 3 times a day. We have some grand news for you, if you haven't heard, there is this gorgeous spot in Sea Point called Coco Safar. When you walk in you will feel transported.
Coco Safar is all over the world and we are lucky to have one right on our doorstep. They have received an award for the world's best croissant and are well known for their inspired desserts and coffee, you will not be disappointed with their presentation. Coco Safar has a few experiences one being the Cafe Gourmand experience, an informative and entertaining coffee and petit fours pairing at their Capsule Emporium where their specialist coffee curators take you through a tasting of 5 of their most famous City Roast specialty coffee & rooibos capsules, paired with decadent sweet treats that complement the notes of each blend perfectly. This whole experience will take about an hour and only costs R125 per person, make sure you book before the time. Pro tip: when you go make sure you get the S'more on top of your coffee, it's only an extra R15. For more experiences like their 16-course high-tea check them out on the FOMO App.