Are you always looking for a restaurant special or something cool to do in Cape Town? The FOMO team is here to help keep you updated, 2022 edition!
Cape Town is well-known for its hospitality and entertainment and as Capetownians, we love to act like tourists in our own city. This in itself is something that is going to help Cape Towns' hospitality industry bounce back quicker after the hellish effects of COVID-19 and our multiple lockdowns. Let's look at some restaurant specials, events, and activities in Cape Town.
Hussar Grill Date Night R385
Looking for a grand experience for your loved one without charging it to your credit card? All Hussar Grill restaurants have an incredible date night for 2 on Tuesdays. For R385 you get 2 courses each, a bottle of Hussar red wine and 2 chocolate vodka martinis. See more details on Hussar Grill's specials here
2. Private Jet Aviation: 30-minute flight for R2600 for Two
This is the longest scenic flight you will find that flies over the Atlantic Seaboard, Robben Island & Table Mountain. What an incredible gift, because what's better than gifting someone a memory!
Did you know that you can now purchase vouchers directly through the FOMO App? See this activity and more on the FOMO App
2. The 41 Camps Bay 50% off Specials
Sunset cocktails and dinner with a view anyone? The 41 in Camps Bay is right on the beachfront and has a vibey atmosphere with good music and even better food. On Monday's The 41 has a tasty pizza special, you can get 50% off pizza's, on Tuesday's they have a burger special where you can get half-price discounts on burgers. To see more of their specials click here.
3. Active Sushi: All you can eat for R199
When that sushi craving hits there is nothing better than an all-you-can-eat sushi bar! At Active Sushi, you can get the bottomless sushi special for R199, available from Monday to Saturday. See more seafood specials on the FOMO App here.
4. Hint Hunt or Amazing Race Adventures: R120 per person
Average cost R120- R150 per person
Have you ever watched amazing and thought heck I would have killed that?! Now is your chance to give it a go. The FOMO App is selling discounted vouchers for both amazing race and outdoor Hint Hunt adventures at the Waterfront. This activity is so affordable because you go in groups of between 4 and 10 people, making it a real good laugh as well. To see more about these activities just search Hint Hunt on the FOMO App here and by the specials vouchers through the app:
5. Mountain Club Rooftop Bistro: Get a free night's stay
If you spend R950 per person (2 people), between the rooftop bistro and the spa, or just one of those, you get a free room at the Cloud 9 Boutique Hotel. Did I mention that you can use the pool when having lunch or drinks, free of charge? See more specials that the Mountain Club offers here.
6. Hudsons Nacho Average Wednesday: R69
I mean if the title doesn't say it all… Every Wednesday Hudsons's has a nacho special where you can get cheese nacho's for R69 and chicken nacho's for R85! Sounds like an actual steal to me, let's get mexican. Check Hudsons out on the FOMO APP.
7. Simon's at Groot Constantia Date Night R550 for Two
The most royal experience in Cape Town you will be blown away by. There is live music and the most beautifully decorated restaurant will make you feel like you just stepped into Paris. You can dress up for this one. For only R550 for two people, you can get the Wednesday date night special. You get 2 starters, 2 mains and a bottle of Groot Constantia red or white wine. You can book directly through the FOMO App:
8. Mynt Cafe Camps Bay: 2 for 1 cocktails every day
Oh baby baby, do we love to feel Boujee on a budget! Mynt Cafe has recently become one of the number 1 spots on the Camps Bay strip to watch the sea view and enjoy an amazing special. They have a 3-hour happy hour special…2 for 1 drinks every single day. Mynt Cafe is also known for some incredible sushi, you can get a 3 for 2 sushi plates special. To see their burger, pasta, and seafood platter specials, download the FOMO App here.
9. Cattle Baron Tableview: R380 Date Night
The Cattle Baron in Blouberg is famous for its tender, juicy, flavorful steaks. If you haven't been to the Blouberg branch you need to do your tastebuds a solid favour and pay them a visit. Cattle Baron Tableview has the most incredible Thursday Date Night special R380 for 2 people, did your jaw just drop? YES R380 for 2 starters, 2 main meals (steak and vegetarian options) 2 desserts and a bottle of wine! They also have a 2-4-1 burger and sides special on a Monday and a Chicken Schnitzel special on a Tuesday, for more details on their specials check the FOMO App.
10. Arnolds on Kloof
Arnold's is a Cape Town MUST! They are known for their relaxed vibe but mostly for their incredible food and value for money. The chefs at Arnold's are top-notch. Arnolds was founded in 1998 and has been going ever since, that's impressive! This spot always has a couple of great specials running, to keep up to date on these you can check them out on the FOMO APP. Their current specials include a lunch special which is delicately delicious spicy chorizo and chicken pasta for only R115 (Mon-Sun), a R114 breakfast special which is a mixed grill special and includes Eland steak, ostrich steak, pork sausage, bacon, eggs and a rosti. Check out the details on the FOMO App
11. Husk Woodstock: Date Night R450 for Two
If trendy vibes, chef-quality food and great dinner specials is what you are looking for, look no further! Husk is really making a splash with their flavourful food and variety of experiences. Husk has the most incredible fine dining menu's but they also have creative burgers and pizzas that locals are raving about. Take babe out for a date night that won't break the bank, for R450 you can get the couples set menu, which is a starter to share, 2 main meals, a dessert to share, and 2 glasses of wine (for more details check Husk out on the FOMO app).
Cocktails anyone? Husk has happy 3 hours from Mon-Sat where you can buy 1 cocktail and get another FREE. There are many more food and drinks specials from Husk on the FOMO App.
12. Den Anker Waterfront: R100 for 2 Waffles
Do you like the view of the Cape Town Harbour, sunshine and great food on special? Who am I kidding, of course, you do! Den Anker at the Waterfront has multiple specials on from breakfast, eggs benedict including a coffee, tea or mimosa for R100 to 2 portions of Belgium waffles for R100 to a wagyu burger special for two, if you want to see more info on their specials you can find Den Anker's deals on the FOMO App.
13. Table Mountain Aerial Cableway: FREE on your birthday
When was the last time you went up the cable car on Table Mountain, if ever? Well on your birthday you can go up… completely FREE of charge, they will of course also bring you back down again! I have actually done this on my birthday and let me tell you getting something free on your birthday just feels like victory, that's if the views weren't enough.
14. Infusion on Long
Infusion on Long Street isn't just food… it's an actual experience. We have all heard about food infused with CBD but have you ever tried it? If you are wondering, CBD-infused food doesn't make you high. Infusion is super trendy with neon lights for photo moments, comedy shows and Mediterranean-style food. We would definitely recommend this for an experience that you won't forget, the best thing is that they have their famous cocktails and tapas on special at 20% discount, check them out on the FOMO App for more details.
15. Hard Rock Cafe Camps Bay: R30 Tequila Specials
The words Hard Rock Cafe just give me those international feels you know! The thing is that you don't have to go further than our very own Camps Bay to have the Hard Rock Cafe experience. Hard Rock Cafe is situated right on the Camps Bay strip sporting insane views of Camps Bay beach from the top balcony, if you want to get those seats I suggest you go a bit earlier as those spots are always popular. To see Hard Rock Cafe Cape Town's specials check them out on the FOMO APP: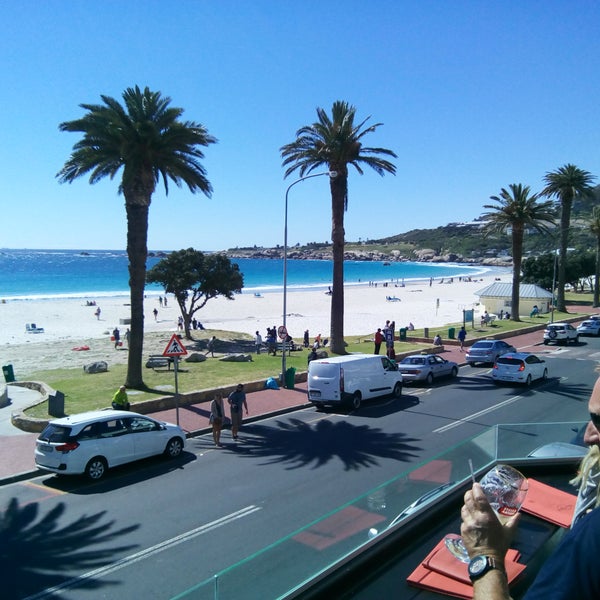 16. J&S Sushi: 2 Prawn Crunch for R160
The sushi restaurant taking over Cape Town and very recently JHB. The amazing thing about J&S Sushi is that they are strictly halaal which we absolutely love in Cape Town. They are known to turn even non-sushi lovers into fans and have popular dishes that stand out namely their Crunch sushi and Chow Mein dishes. J&S is mainly focused on takeout sushi but their spot in Woodstock has a sit-down area. On Friday's you can get 2 portions of prawn crunch for R160 and 2 portions of Chow Mein for R110. They also have some great platter specials, to see more of the details and locations of their specials, check them on the FOMO App.
17. Coco Safar SA: R125 per person for Cafe Gourmand experience
Have you ever thought, "man I just wish I was in Paris today!"? I think I have that feeling roughly 3 times a day. We have some grand news for you, if you haven't heard, there is this gorgeous spot in Sea Point called Coco Safar. When you walk in you will feel transported.
Coco Safar is all over the world and we are lucky to have one right on our doorstep. They have received an award for the world's best croissant and are well known for their inspired desserts and coffee, you will not be disappointed with their presentation. Coco Safar has a few experiences one being the Cafe Gourmand experience, an informative and entertaining coffee and petit fours pairing at their Capsule Emporium where their specialist coffee curators take you through a tasting of 5 of their most famous City Roast specialty coffee & rooibos capsules, paired with decadent sweet treats that complement the notes of each blend perfectly. This whole experience will take about an hour and only costs R125 per person, make sure you book before the time. Pro tip: when you go make sure you get the S'more on top of your coffee, it's only an extra R15. For more experiences like their 16-course high-tea check them out on the FOMO App.